Issue 50
We fully appreciate that the month of September does not qualify as summer.  However the Budget at the beginning of July was called the Summer Budget and we're still trying to get to grips with some of the implications which take a while to work out.
So, no apologies for calling this issue of the Square Circular the Summer Issue.  It focuses primarily on the Summer Budget now that we've had time to give the headlines from July more detailed consideration.
If you want more details about any of the matters we've mentioned in this issue, or indeed, about any of the matters we haven't mentioned please do contact us on 0161 832 4841.
WHAT'S NEWS?
We're delighted to welcome Millie Frost and Adam Fawl to our accounts and audit department.  Millie is a physics graduate of Nottingham University.  Adam is a human biology graduate of Loughborough University and is also an elite athlete.  He was a double silver medallist at the 2015 National UK Swimming Championships.
At the other end of the scale John Evans recently held his retirement party for partners and staff.  Retiring may be the wrong word because he's been in the office every day since and the retirement party may indeed have been for partners and staff rather than for John.  Adam may be our candidate for the 100m Freestyle but John's our man for the marathon.
DIVIDENDS
The Summer Budget announced changes to the taxation of dividends to be introduced from 6 April 2016.  As with any tax changes there will be winners and losers. The winners are likely to be investors with modest dividend income. The losers will be the entrepreneurial shareholders of owner managed business who take their reward from their company in the form of substantial shareholder dividends rather than as directors' remuneration.  We don't need to spell out details for you.  You probably know about this already.
Soon after the Summer Budget, accountants reached for their calculators and got absorbed in their spreadsheets trying to work out what the effect would be on a decision whether or not to incorporate a business and then, if incorporated, how best to extract profits.  Shortly after the Summer Budget it turned out that we'd all misunderstood how the first £5,000 of tax free dividend would work, so, back to the spreadsheets.  The excitement (well, it is excitement for accountants) appears to have settled down a little so we can now give you some general guidelines.
Dividends in 2016/17 and later years will be more tax expensive than in 2015/16. They should still beat remuneration but not by as much as before
It may be worth advancing to 2015/16 dividend payments which might ordinarily have fallen in 2016/17. But remember, that also advances the tax payment date and may also have a knock-on effect on your total income lifting you into a higher tax bracket
You could consider other means of extracting value from the company. If you own the premises from which your company trades or if you've loaned money to your company, there are possibilities.
There still remains not so obvious tax efficient extraction solutions which do not fall foul of the DOTAS (Disclosure of Tax Avoidance Schemes) rules. The tax mitigation industry has recently been under pressure from HMRC but we can see increased taxation of dividends as the tipping point which gives a stimulus to implementing tax planning solutions.
Finally, the golden rule. One size does not fit all.  It's not just a question of looking at the new tax rates on dividends.  You have to consider the wider impact on your company's position not just from a tax perspective but also from a company law and commercial perspective.   That's going to be worth a meeting with John or Simon, our tax partners.
FORTY YEARS ON GROWING OLDER AND OLDER
 "Shorter in wind as in memory long".  So, the Harrow school song goes.
Forty years ago, people now in their fifties or sixties didn't know the meaning of the word "pension".  Forty, or not so many years on, it's a hot topic.  Recent pension reforms have made the subject hotter than hot.  Especially, the changes that let you access your pension, as Tommy Cooper would have said, "just like that".
It's also a potential gold mine for pension scammers.  So much so, that the Pensions Regulator website has given advice how to safeguard against pension scams and how to spot the warning signs of a scam.  If you're of an age to access your pension a visit to www.thepensionsregulator.gov.uk/individuals/dangers-of-pension-scams.aspx may be of interest.
FIFTEEN YEARS ON
15 years residence in the UK out of the last 20 years will be sufficient for you to lose non-domiciled status under rules which will apply from April 2017.  This can have severe Inheritance Tax (Ih.T) repercussions for long term UK residents who are not of UK extraction and who own property abroad.  Ih.T bites on the worldwide assets of UK domiciled individuals; for non-UK domiciled individuals it only bites on assets situated in the UK.  If you're genuinely not UK domiciled but have made the UK your long term home and have foreign assets which you expected would escape Ih.T it's not very amusing.
Here's something else that won't get you laughing out loud.  Suppose you're an Irishman but you've spent your whole life in Australia.  If you owned a UK property it could attract Ih.T even though you've never set foot in old Blighty because the property is sited in the UK.  But you're not stupid.  You've created a Mexican Trust which owns shares in a Japanese Company which owns the property.  You don't actually own a UK property directly, so no Ih.T.  Clever or what?
Well, maybe, until April 2017 when the rules will change and you may have to think again. The Government promised us a full consultation on this.  Looks like more planning ahead..
FIFTY ISSUES ON GROWING OLDER AND OLDER
Don't know if you noticed but this is the 50th Issue of the Square Circular.  To celebrate here's a little distraction.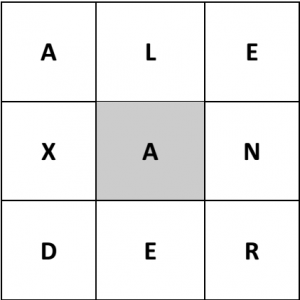 How many words of four letters or more can you make from the Nonogram?  Each word must use the central letter, and each letter may be used only once.  There is one word that uses all nine letters.  It's a name and there are no prizes for finding the nine letter word.
8-1
With the football season not long since under way, you'd be forgiven for thinking that this was one of the scores.  Wrong again.  As it just so happens it was actually the baseball score in the game between the Cleveland Indians and the Minnesota Twins last month, but that's not really relevant here.
Give in?  We'll tell you.  On 6 August when the Monetary Policy Committee of the Bank of England met to discuss interest rates, 8 members voted to keep rates at their current historic low and 1 voted for a rise.  Apparently the shift towards higher interest rates is about to begin and the word "on the street", if not "in the bank" is that (Chinese stock market permitting) we'll see increased rates in 2016.  So what?
If you're a landlord we don't need to tell you about the changes to property taxation proposed in the Summer Budget.  Our Budget Summary, the next day, mentioned them.  Of course, we're referring to the proposal to restrict tax relief on mortgage interest payments to basic rate.  Not good news for a higher rate taxpayer.  The restriction will be a gradual process starting in 2017/18 and by 2020/21 all loan interest will be restricted to relief at basic rate only.  Maybe, at present, with low interest rates the proposed new rules wouldn't be too punishing. If they start to increase over the next year or two the molehill becomes a mountain.
So, what's the answer for the higher rate taxpayer.  The easy answer is not to be a borrower but we all know that's not how property investment works, least not in an expanding property investment business.  The next bright idea is corporate ownership.  There are benefits to that anyway but there are also potential downsides both in holding properties in a company and in transferring properties from personal ownership to corporate ownership.
It's worth having a chat with John or Simon, our tax partners, to help weigh up the options of personal or corporate rental property ownership and the extent to which some of the downsides might possibly be turned to advantages.
WEARY AND TEARY
That would have been our headline for furnished residential lettings landlords had we been telling you this immediately after the Summer Budget.  The wear and tear allowance calculated at 10% of the rental income and meant to compensate landlords for not being able to claim allowances for the cost of furniture and fittings was to be abolished.
That was the simple bad news headline.  But, the small print said that the Government was going to consult on the subject and the consultation document published by HMRC is not quite as dire as the simple abolition of wear and tear allowance.  In its place is a proposal to give a new relief to cover the capital cost of replacing items provided in the dwelling house for the tenant's use.  Not initial cost, mind you.  Just replacement costs.
The new relief will apply from April 2016 and it may not be quite as simple as it sounds because integral fixtures are not included in this relief.  They would normally rank as a repair to the property itself.  Any problems, our tax team can sort it out.  They'll tell you the difference between fridges, freezers and fitted kitchen units and boilers.
Quite often, after a Budget, it doesn't do to jump to conclusions.  It can take a while for the details and their impact to emerge.  Ultimately, the replacement of wear and tear allowance may have little impact for many landlords.
AND FINALLY
Another from the church notice board.
"The church will host an evening of fine dining, superb entertainment and gracious hostility".
Contact a professional now