Xero accounting software: how can it help your business?
For most small to medium-sized business owners, growing your business and getting on with your day-to-day job is a priority. Spending hours doing paperwork and accountancy tasks is likely to be a large distraction for you.
Outsourcing financial management is one way to greatly reduce your time on such matters and reduce your IT and admin costs. This also allows for astute accountants to provide you with strategic business advice. Another option to consider for assisting in daily accounting tasks is Xero's online accounting software. When this is implemented alongside your accountant, it can provide a powerful collaboration tool.
In this guide, we'll take you through everything you need to know about the Xero software package and more importantly, how it can assist you in running your business. 
For advice on all aspects of accountancy, including choosing the best software, how to implement a cloud-based package and most crucially ongoing support, Alexander & Co is on hand with expert knowledge, so do not hesitate to contact us. If you wish to become one of our clients.
What is Xero?
Xero is a cloud-based accounting software package that allows you to perform many business tasks online while simplifying the day-to-day running of your company. It was established in 2007 and grew rapidly due to its early adoption of cloud technology. Today, Xero has over 1.8m users across the globe.
Accounting has changed significantly over recent years and making the move into the world of online accounting can seem daunting for many businesses. With Making Tax Digital becoming mandatory by 2020, online accounting software like Xero aims to make this transition much easier.
As Xero Certified Advisors, our specialist online accountants have helped many companies integrate this software package into their everyday business life and can assist in providing advice and training to help clients' adapt.
10 key features of Xero
Xero's online accounting software can help your business out with many day-to-day tasks.
1. Mobile capabilities
Xero's functionality is one of its best assets. It is efficient, works in real-time and can be used on the move, anywhere, anytime. As it is cloud-based you can work across multiple devices, PC, laptop, tablet or phone. Your information is available at the touch of a button, whenever you are connected.
2. Works hand-in-hand with your accountant
Xero also makes working with your accountant easier and more efficient as information can be uploaded automatically, in  . This means that your accountant also has access to the data they require, as soon as it is available, meaning work can be done more efficiently and business advice, such as financial planning, can be delivered more effectively. It also makes the process for both you and your accountant more streamlined, meaning that more time and effort can be used in helping your business grow, rather than working on the more mundane tasks.
3. Multiple users
The number of users isn't limited, yourself, bookkeepers and your accountants can access it. As it is in  , it means that issues can be addressed as soon as they arise, often without the need for meetings to reconcile information. Your accountant can save resources and identify issues sooner, meaning that these can be dealt with in real-time, and streamline efficiencies in your business.  
4. Producing quotes and generation invoices
Create and send a personalised online quote or estimate on the spot. When you need to bill a customer, invoices can be sent easily online and include online payment options.
5. Getting paid on time
Accept payments online and get paid quicker. Xero payment services make it easy for your customers to pay you on time and you can manage outstanding invoices.
6. Bill payment
Xero can be set up to pay your bills on time and get an overview of where your business is spending money with accounts payable software.
7. Bank reconciliation
Xero can be connected to your bank, so transactions flow in automatically, ready to be reconciled.
8. Manage payroll and pensions
Xero also makes it easy to track, manage and process your staff's pay or pensions – all in one centralised place. Easily send payslips and run customisable reports bespoke to your business. 
9. Business analysis
We know how important it is for businesses to keep track of their performance. Xero accounting software allows you to set goals, track your performance and create in-depth reports. 
10. Data security
It's understandable that one of the biggest concerns with online accounting software is the security of your data. However, Xero is a cloud-based software that protects your business information with extra layers of security. Your information is backed up daily, and it's even encrypted and stored in several safe and secure locations.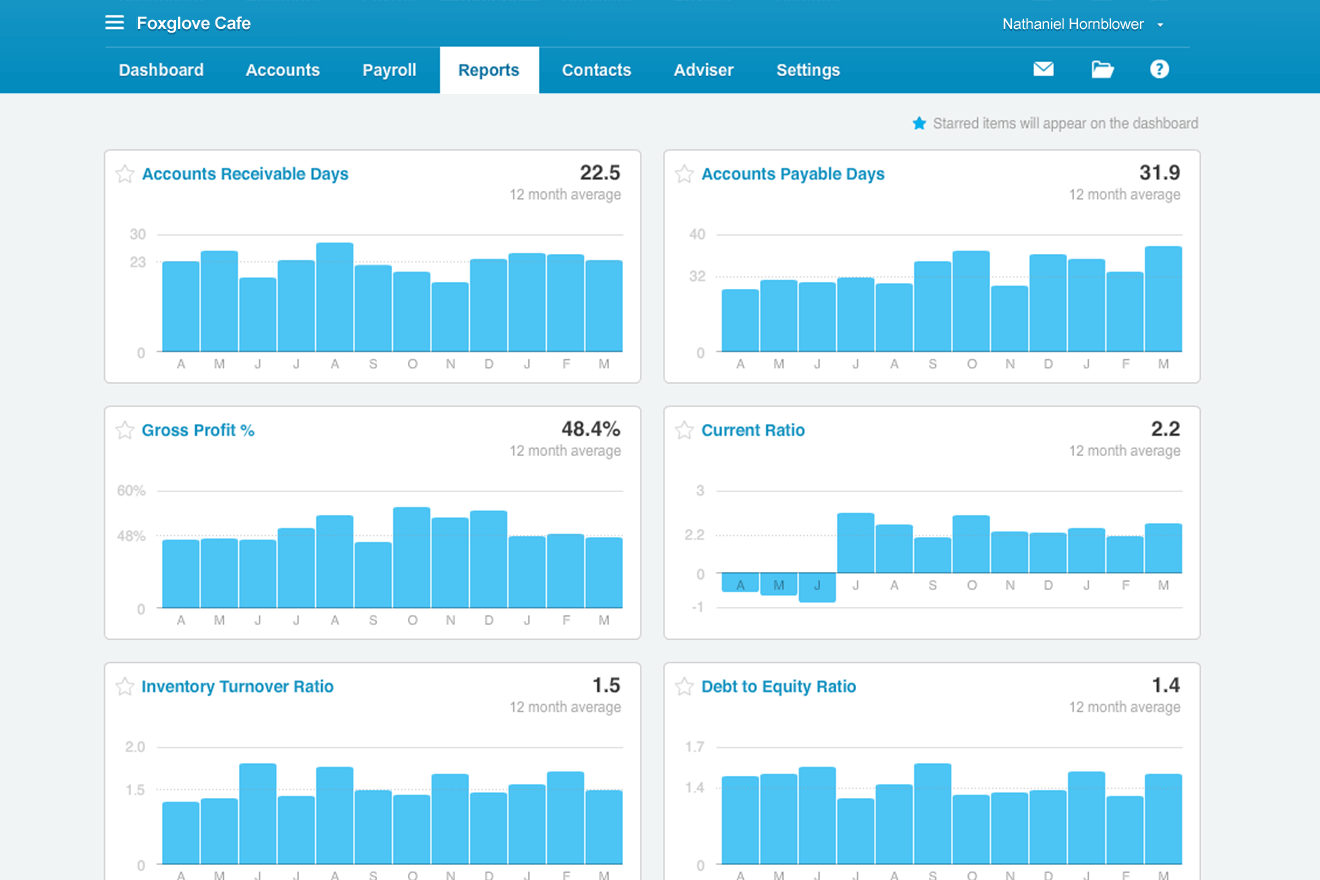 Benefits of Xero: what can it do for your business?
Aside from its many features, there are a number of great benefits to using Xero as your online accounting software.
Increased efficiency.

Xero can reduce your time on manual accounting activities.

Added security.

With many layers of protection, your data could actually be safer at the hands of Xero.

Increased collaboration

. The software allows for collaborating with others in the business and external advisors, including your accountant who will be able to align more closely to your business needs.
How do you use it?
Switching can be seen to be a huge step, especially if you use different packages for different functions, or keep information in lots of separate spreadsheets. Accountancy functions are integrated into one single piece of software, so at the touch of a button, all information is available.
Moving over from your current system, whether these be an online system or manual, our specialist qualified online accountants can make this move seamless for you. As Xero Certified Advisors, we can advise you across the move and provide a tailored training package to assist. As your business advisor, we remain on hand to assist with any glitches you may encounter in the future.
Xero and your accountant
We believe Xero is not a replacement for your accountant; it is most effective as a tool to help you collaborate more efficiently.
Xero aligns your accountant more closely with your financial data, and in real-time, this means checks can be done more efficiently and potential issues can be spotted quickly, often before they become a larger problem for your business. More time can also be spent on business analysis and providing higher value advice to your business.
How to purchase Xero's online accounting software
As Xero Certified Advisors we can provide our clients with a tailored package of additional training and support that may not be available elsewhere. We can also assist in helping clients make a seamless transition and integrating the software into your business.
Additionally, we believe Xero works hardest for you when it is working alongside your accountant. Xero provides an integrated real-time business tool that aids collaboration and helps your business to become more efficient and grow.
Getting started with Xero
If you are an existing client and would like to discuss if Xero is right for your business and how it could be integrated to save you time and help your business grow, please get in touch with our specialist Xero Certified Advisors in your usual way.
If you would like to become a client of Alexander & Co, you can call us on 0161 832 4841 or email info@alexander.co.uk. Alternatively, fill out the form below and we'll be in touch.
Contact a professional now