Business success in 2022 and beyond – Family Business Webinar
A Family Business Webinar is being held by the Business Desk, in association with Alexander & Co. The webinar will explore the added complexities of a family businesses and how they can help to future proof their businesses as they navigate 2022 and beyond.
Taking place online on 12 July between 9.30 am and 10.30 pm, the webinar will discuss the core areas all family business should consider in building a family legacy.
Importantly, and as is the case for all businesses in the current climate, the webinar will also discuss the impact of inflation and the increased cost of living, evaluating the actions that family businesses should be considering.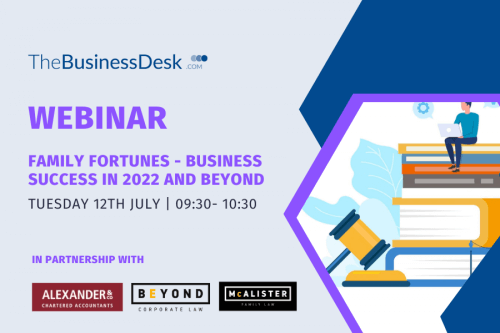 John McCaffery, Head of Tax and Tax Partner at Alexander & Co will be discussing a wide range of tax issues affecting family businesses and the webinar will cover the following topics:
Family businesses – why they need a different approach
Structuring and restructuring in a tax efficient manner
Planning for the future of family businesses and managing succession
Managing growth in Family Businesses
Extracting wealth from family businesses and providing security to earlier generations
Shareholder agreements in family businesses
Managing shareholder relationships and wealth protection
Family investment companies, trusts and wills
The mitigation of inheritance tax for family businesses
Inflation and the increasing cost of living – an action plan for family businesses
Joining John McCaffery will be McAlister Family Law and Beyond Corporate, both specialists in the legal aspects of family business related matters.
Tom Mathew, Director at Dunsters Farm will be joining the panel to give valuable insight from a family businesses' point of view and chairing the event will be Editor of the Business Desk North West, Shelina Begum.
This event has already taken place. You can watch it back by clicking here.
Contact a professional now