Alexander & Co teams with the Business Desk for a series of webinars to help businesses
Alexander & Co is pleased to announce that it has teamed up with the Business Desk to deliver a series of webinars throughout 2021, aimed at providing insight to help businesses become more resilient and profitable as we head through 2021.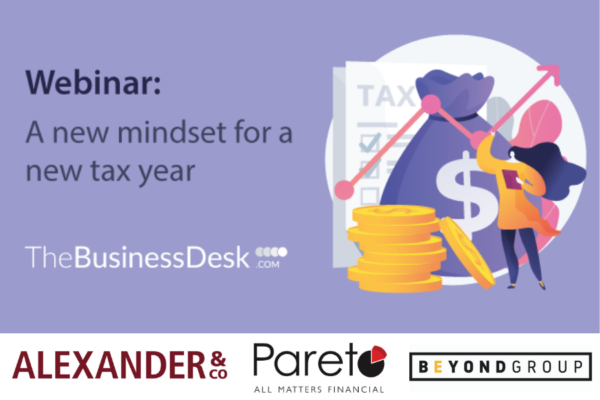 The first of these, taking place on 31 March is titled 'A new mindset for a new tax year' and will include a discussion on some of the issues arising from the budget, including how to maximise the use of Super Deductions and other tax saving strategies as well as a roundup of Government measures previously announced that were not mentioned in the Budget, including understanding changes to R&D and reviewing IR35.
This webinar will explore what is next for entrepreneurs and businesses and what they need to know to bounce back and thrive, as business structures have been tested and many business owners are looking to grow sustainably into a post-covid future.
The seminar will look at issues such as developing strategies and structures, reorganisation, getting sound legal advice through to how to maximise tax savings through proactive planning and financial planning for businesses.
Joining John McCaffery, Tax Partner at Alexander & Co, will be Alex Savage, independent financial advisor at Pareto Financial Planning and Jim Truscott, partner at Beyond Corporate. Rob Davenport, Chief Executive of Shawston Holdings will also be joining the panel to give valuable insight from a businesses' point of view and chairing the discussion will be Shelina Begum, Editor of the Business Desk North West.
Commenting on the event, John said "following positive feedback from our last webinar we are expanding the series with an aim to provide further useful resources to businesses and cover a range of tax, legal and financial issues that businesses are faced with today. We hope that these events will help businesses from a wide range of sectors prepare better for the year ahead and consider issues in more detail, that may not be at the forefront of their minds."
The event is free to attend and will take place via Zoom at 12.45pm on 31 March.
Further webinars are scheduled to take place in 2021, the next being announced following this event.
Contact a professional now