Crypto webinar – Should crypto be part of your business strategy?
Join our crypto webinar in association with the Business Desk on 8 November 2023 to find out what lies ahead for crypto in 2023, how businesses are embracing NFTs and what changes are on the horizon for crypto from a legal and tax perspective.
The past year has seen the value of crypto including Ethereum, Bitcoin, Cardano, BNB and XRP fluctuate, and many people are trying to understand when the next crypto boom may be.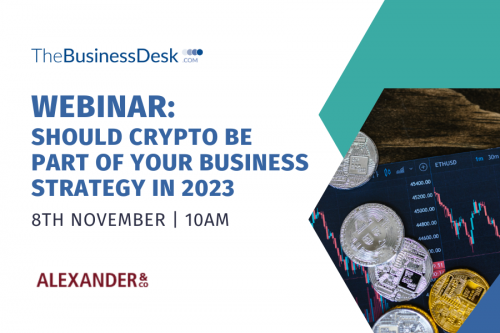 In this crypto webinar we will be exploring the following topics:
Who were the crypto winners over the last 12 months?
Can crypto values rise again in 2023
What is in store for crypto in the long term?
The rise in interest of NFTs (Non-Fungible Tokens) and how are companies embracing these as part of their offerings?
A recap on how crypto is taxed and how to minimise tax exposure
Importantly, how to offset any losses in crypto against potential future gains
The tax consequences of transacting in crypto
The Legal aspects of crypto in the UK – is anything likely to change?
This crypto webinar will take place on 8 November 2022 between 10.00 am-11.00 am.
Our Head of Tax and Tax Partner John McCaffery, will be discussing the tax implications of crypto for both businesses and individuals, importantly explaining how any losses occurred in 2022 could be offset against future gains.
Joining John will be Jamie Lewis, CEO of ioconic, which is a VC-backed full-service partnership business offering exposure to the web3, NFT and digital asset industry for brand owners and licensors.
Partner at law firm Beyond Corporate, Jim Truscot will also be joining the panel. Jim focuses on corporate legal matters including business restructuring, equity structuring, governance and regulatory.
Alexander & Co – Crypto tax specialists
At Alexander & Co, we have been advising clients on crypto tax matters for a number of years. we work both with individuals and businesses, who either invest or trade in crypto, or directly work within or support this sector.
Our tax accountants are fully certified, ensuring we provide expert advice to help reduce your tax liability as much as possible and keep you on the right side of HMRC.
We offer a complimentary initial consultation to review your personal circumstances and discuss the best route forward. This can be arranged via phone or video call.
In addition to providing cryptocurrency tax advice, we provide a comprehensive range of tax and accountancy services. To discuss how we can assist you please contact a member of our specialist team by emailing info@alexander.co.uk or simply filling out the contact form on this page.
Contact a professional now