Shock Horror! HMRC Helplines Found Lacking by Which?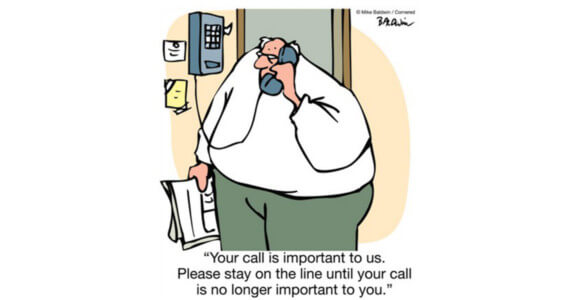 If you've ever had grounds for calling HMRC's helplines, it probably won't come as much surprise that they've not got a reputation for being particularly helpful.
But it's always nice to see confirmation of a fact you've long suspected true. HMRC's tax helplines have labelled a 'lottery' in a recent survey because nearly a third of callers were cut off before having the chance to speak to an adviser.
As we look forward to the tax return deadline on 31 January, it's not particularly reassuring for the thousands who will rely on the helpline's advice. The survey was conducted by consumer organisation Which? and is based on 100 calls to HMRC's self-assessment and general enquiries helplines where they evaluated how simple it was to get through to an adviser. The result was that 29% of calls were cut off by the automated system before anyone could speak to HMRC due to the helpline being 'very busy'.
Out of the remaining 71 calls made where the Which? researchers actually did make it through to the automated system, they were met with delays of 18 minutes on average before being connected to a person. In one case a caller had to stay on the line for 41 minutes.
Talking about the issue, Which? executive director, Richard Lloyd, explained what he wanted to see: "We've found people could face lengthy waits or even be cut off when trying to get assistance from HMRC's helplines. With large numbers of people soon to be seeking help with their self-assessment tax return, we want to see HMRC doing more to monitor and improve their call-waiting times."
[well]
At a glance
29% of calls cut off automatically
Average wait time: 18 minutes
Longest wait time: 41 minutes
Call early for fewer delays
[/well]
There is a tip in all of this: researchers found that calling later in the day tend to result in longer waiting times so, as usual, "the early bird catches the worm".
The HMRC voice-recognition system, which was introduced in November 2013 to help cut overall call times, struggled with many queries and, understandably, performed better with shorter phrases.
HMRC responded with the following statement: "HMRC receives over 40 million calls a year, but we know that some of our customers can struggle to get through on our helplines at very busy times. This isn't good enough, and we are working hard to improve the range of services we provide.
"This year, we are introducing new technology to help us answer more calls quicker at busy times, and we are improving the digital services we offer so that more customers can find all they need online. There is more to do, and we are committed to improving the service we offer all of our customers at all times, to help them find advice and support when they need it."
Contact a professional now