Whether you're an Alexander & Co client or not, we'd like to invite you to our latest business event in Manchester, a free breakfast seminar and networking event aimed at helping businesses improve profitability and grow.
Our Business Growth Series
We're excited to announce that, in partnership with Pareto Alexander and the Business Growth Hub, we're launching a series of free breakfast seminars and networking events in Manchester. Tickets to the event are completely free and you can grab yours here.
What to expect
Aimed at privately owned businesses and entrepreneurs who are interested in scaling-up their businesses, along with those looking to grow and improve their profitability, our breakfast seminars will offer:
Financial and business growth advice from our industry experts.
Examples of good business practice and advice on collaborations to fuel business growth.
An opportunity to network with like-minded individuals.
Alexander & Co Tax Partner John McCaffery explains: "We have previously organised similar events specifically for clients, or by request, engaging directly with individual companies. Following positive feedback, we are opening these up to any interested business owners, employees and entrepreneurs, not just clients.
"We are excited to be bringing these events in partnership with Pareto Alexander and The Business Growth Hub. Our combined understanding and experience in business planning and growth will provide attendees with a wide range of knowledge and insight to help assist their business strategies and growth plans."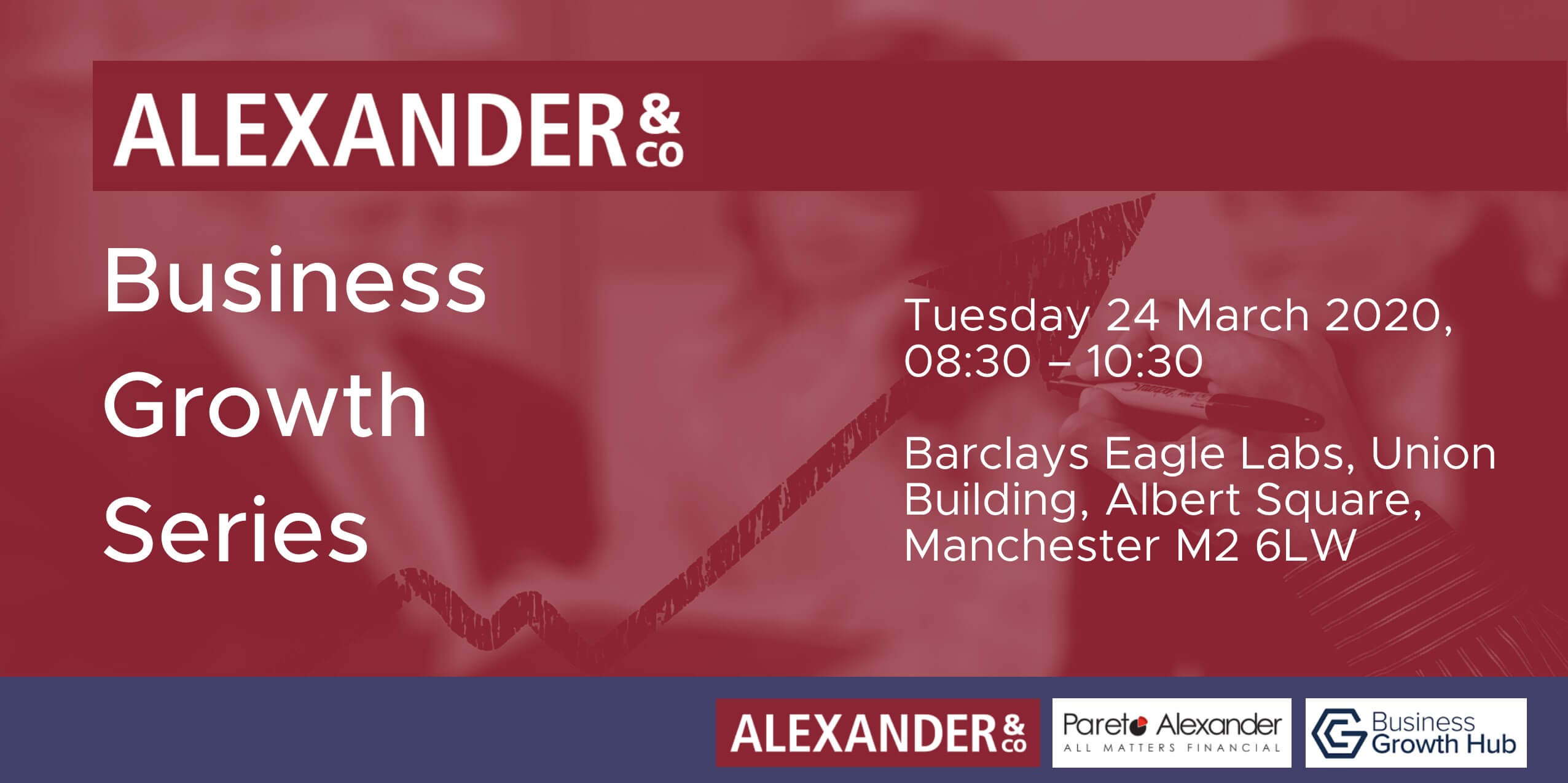 A warm welcome to our guest speakers
The first event of 2020 is focusing on the end of the tax year, and what preparations are required as we enter a new tax year. Given that the delayed 2019 budget is now scheduled for 11 March 2020 and with the UK exiting the EU on 31 January 2020, there will be a wide range of tax issues affecting businesses throughout 2020. 
Alex Savage from Pareto Alexander will be discussing "Are you indispensable?" SMEs often have one or two key individuals they rely heavily on for the business to be a success, how can you manage that risk? Alex will also consider the importance of a shareholder agreement, especially in a growing business. 
We are delighted to also welcome Peter Gaunt, from the Business Growth Hub, who will be speaking on Brexit planning for businesses in 2020 and how to minimise disruption and take advantage of any arising opportunities.
When is the business growth breakfast seminar?
The first event will take place at Barclays Eagle Labs in Manchester on Tuesday 24 March 2020. Starting at 08:30 there will be an opportunity for informal networking, whilst having a spot of breakfast before we welcome our speakers, who will provide concise presentations. There will again be an opportunity for networking and to ask any specific questions to any of the presenters, or other staff members present afterwards.
How to get there
Barclays Manchester Eagle Lab is located in the Union Building on Albert Square, M2 6LW. This is just a short walk from all major train stations in Manchester City Centre and is conventionally located near to St Peter's Square tram stop.
Get your tickets today
Tickets are available via Eventbrite and are completely free. We look forward to seeing you there! In the meantime, if you have any questions, please feel free to contact our team.