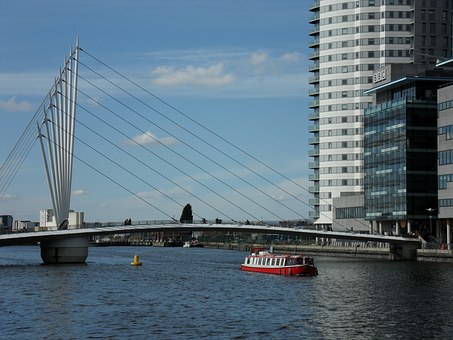 Our Salford accountants office is conveniently located in the Greenhouse at MediaCityUK, Salford Quays.
MediaCityUK is the new home for the BBC, ITV, Coronation Street, SIS and the University of Salford. Located at Salford Quays on the banks of Manchester's historic ship canal, MediaCityUK features a wide range of commercial office space, one of the biggest HD studio developments in Europe; 378 apartments, a hotel and a brand new tram stop in the heart of a spectacular five-acre piazza.
If you're looking for professional accountants in Salford, why not pay us a visit in the near future, take a look at our transport tips below.
We are now one of the leading accountants in Salford, on hand to service in and around the Salford area. Our chartered accountant services are here to help any business looking to take full control of their finances and need a helping hand to get their affairs in order.
How to get to our Salford accountants office in MediaCityUK
To get to our Salford accountants office from anywhere in Manchester, you can jump on your nearest Metrolink tram. The tram terminus is at the heart of MediaCityUK and it takes 15 minutes to get to Manchester Piccadilly or ten minutes to Eccles Station. In addition, the Broadway tram stop is adjacent to The Pie Factory.
The No 9 takes passengers from MediaCityUK to Salford Crescent Station. The service operates every 15 minutes and goes via Salford Shopping City.
The X50 runs from Manchester City Centre to the Trafford Centre, via the Quays. It operates up to every 15 minutes.
There is no train station in Salford Quays, but you can catch the Metrolink tram from all major train stations in Manchester City Centre, including Manchester Victoria and Piccadilly.
Contacting out Salford accountants office
You can call us on 0161 832 4841, or alternatively, you can send an email to info@alexander.co.uk and we'll be in touch promptly.
Finding our office
The Greenhouse
Broadway, MediaCityUK
Salford, M50 2EQ