Meet the team: Matt Stambach – Private Client Tax Manager
For our first meet the team post, we chatted with Matt Stambach (Private Client Tax Manager at Alexander & Co) about his role at the company, what he enjoys most outside of work and how he once scored a goal against Kasper Schmeichel!
1. Firstly, tell us a little about your role and what you do at Alexander & Co
I head up the Private Client Tax Department here, leading a team of tax professionals delivering tax compliance and advisory work to a portfolio of clients ranging from director shareholders, sole traders/partnerships, property entrepreneurs and even social media influencers.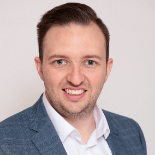 2. Why accounting/tax?
I very much fell into the world of tax. After leaving college I had decided that University was not really for me, so I looked through the paper (yes, jobs were still found in the paper back then!) and was successful in getting a job at an HMRC Contact Centre on the phones dealing with tax queries for the public.
After around two years, I internally transferred to an Enquiry Centre which was provided similar advice, but face to face rather than on the phone. Following this, I transferred into practice with a firm based in Altrincham where I sat my exams and stayed for eight years. Two moves since then have led me to Alexander & Co.
I really enjoy the client interaction that comes with providing tax services and take pride in being able to offer trusted advice to my clients.
3. Tell us a little more about the work you do
As head of the department, I work closely with my team on all aspects of tax both from a compliance perspective (Tax Returns, P11Ds etc) as well as advisory projects. Managing workload to ensure the right team member is assigned to the tasks as required whilst providing support and review of work to ensure accuracy
As a team, we are seeing a lot of new advisory work coming in which helps broaden knowledge across the department.
I personally oversee most new client enquiries which come into the practice, often speaking on the phone or in-person to establish the potential clients' needs and seek to quote for work. This is stimulating growth which I am tasked with driving the department to continue to grow.
4. Has your work led you to any far-away places, interesting occurrences or unusual episodes?
In previous roles certainly. I have travelled the length of the country to provide advice to clients. From as far north as Glasgow right down to Canterbury, and even a quick hop across the Irish sea to Dublin. Tax really does not have boundaries and with modern technology, advice can nowadays be prepared and delivered from any part of the country.
During a trip to Dublin, after the days work, we were in a bar on the outskirts of the city when one chap decided he was going to impress the patrons of the tavern with shirtless, one arm press-ups. He managed a few, which is impressive. Even got a pint bought for him. Not sure too many spectators were impressed though.
5. If you could give a business only one piece of advice, what would it be?
Easy one really – "Good tax advice really does pay for itself"
6. If you were not a tax advisor, what would you choose to be?
Well growing up I had always wanted to be a train driver – so probably that.
7. What do you enjoy outside of work? – anything that might surprise us?
Football is my main hobby. I am still convinced that I am going to be 'spotted' (at the age of 34) playing my trade in the Manchester Saturday League.
I am a proud Stockport County fan, having had a season ticket now for 20 years.
I am also a keen traveller and a keen driver. A road trip across America or around the Cote D'Azur are very high on my bucket list.
8. Tell us one interesting thing about yourself
I once scored a goal against Kasper Schmeichel playing primary school football. Our respective football careers clearly went on separate trajectories.
My family are the only 'Stambach' family in the UK (at the latest census). My Great Grandfather was German, and my grandfather worked for UK intelligence during WW2 as he was able to speak fluent German.
9. Travel – home or away? City or beach? Where have you been most happy?
New York is a very special place for me as it is where Emily and I got engaged back in 2018. We would very much like to return soon.
I would say I am more of an adventurer when I go on holiday. I am not really one for sitting in the sun all day, I like to get about and explore the sights and sounds of new places.
Dubai is a personal favourite place of mine. Incredibly diverse bustling Middle Eastern city mixed with the glitz and glam and home comforts. Some great memories of going to Dubai with the football lads. Playing football by day and an open top bus bar crawl by night.
10. What are your three desert island discs?
Please bear in mind that I have an incredibly eclectic taste in music!
Who needs pictures – Brad Paisley
Curtain Call – Eminem
Hybrid Theory – Linkin Park
11. Do you have a favourite quote?
The pessimist sees difficulty in every opportunity. The optimist sees the opportunity in every difficulty – Winston Churchill
12. If you have one guilty pleasure, what it is?
My guilty pleasure is definitely Irish Dancing. I find it absolutely fascinating.
13. What are you most looking forward to enjoying (outside of work) in 2021 and beyond?
2021- Moving into the house that we bought and have been renovating since October and going on a holiday
2022 – Wedding and Honeymoon! Emily and I were initially due to get married in October 2020 but that has now been pushed back to February 2022
2023 and beyond – Who knows?!
14. One piece of advice you would give your younger self
Stop wasting money on frivolous things. Invest in property and go on holiday!
A special thanks to Matt for taking part in our first meet the team post! We'll be back with some more interesting insights from other members of our Manchester team very soon.
Contact a professional now